Welcome to Sip & Pearl
Sip & Pearl is a family owned and run business, situated on the beautiful Gold Coast, Queensland.
The Sip & Pearl concept came to life in late 2021 through mother and daughter team (Noeleen and Sharnni) looking for a unique way for people to get together and be creative.
With a focus on Freshwater Pearl jewellery designs, Sip & Pearl is a fantastic way to celebrate a special occasion or simply a relaxed catch up with friends.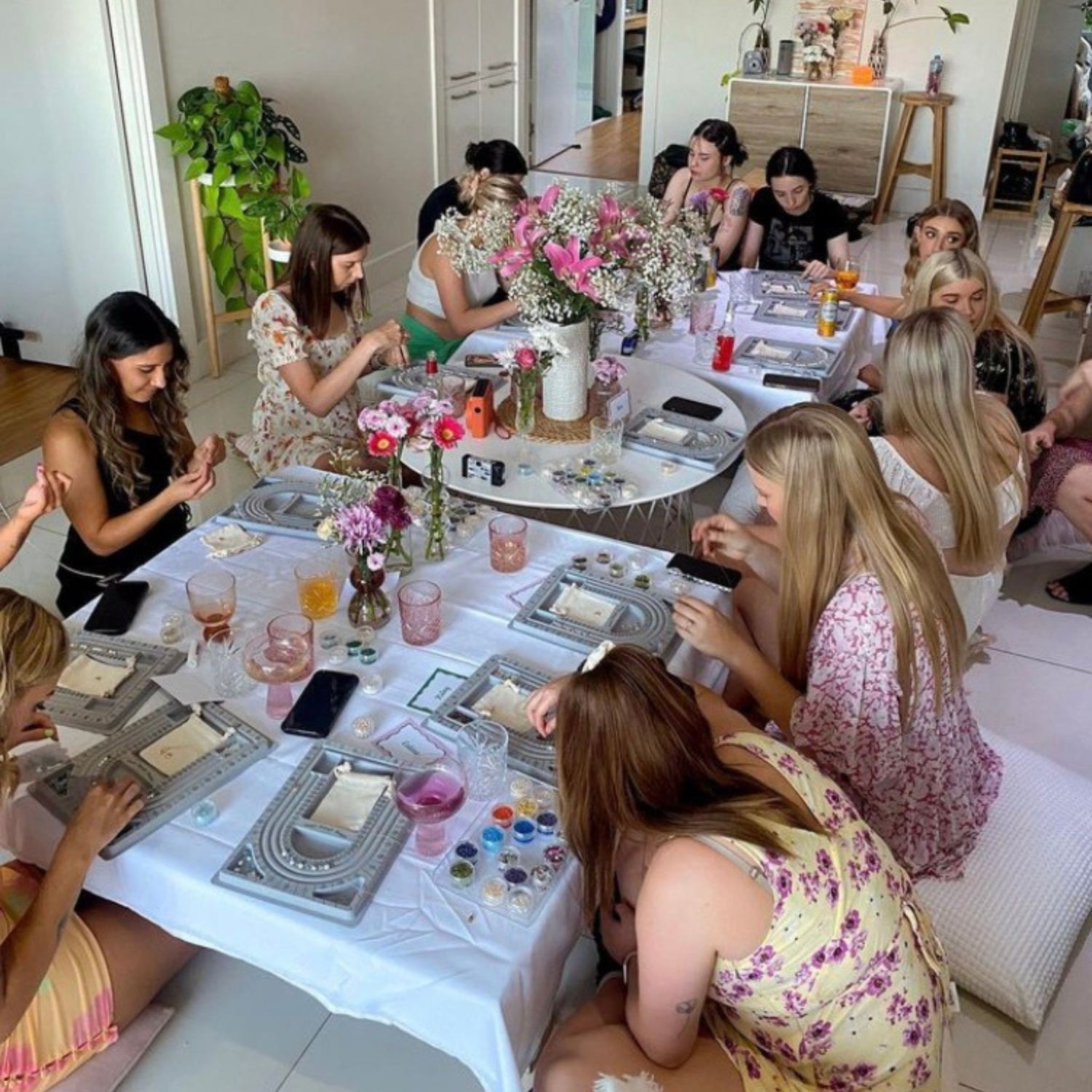 Booking Your Own Sip & Pearl Private Party As Easy As 1-2-3.
Step 1
Select the State or Region where you would like your party to be held.
Step 2
Choose the Sip & Pearl Package you would like for your party. There are 4 to choose from, each based on the number of pieces each guest will make.
Step 3
Create your Party Booking.
Start Here
What's On: New South Wales
Regular price
From $55.00 AUD
Regular price
Sale price
From $55.00 AUD
Unit price
per
Regular price
From $55.00 AUD
Regular price
Sale price
From $55.00 AUD
Unit price
per
Sip & Pearl Party Booking FAQ
I'm not sure what Package to choose. What do you suggest?

This really depends on how much time you have on the day and the occasion you are celebrating.

The PLUSH 2 Piece package is by far our most popular, with many people wanting to design and make a matching set, for example Necklace and Bracelet.

If time is a factor, for example a Hen's Party where you have a number of activities planned, the ENTICE 1 Piece package may be ideal.

On the other hand, if a love of Freshwater Pearls is the driving factor, then the INDULGE 3 Piece or LUXE 4 Piece is the right choice.
Can some people make 1 piece and others make more?

Absolutely and there's a couple of ways to do that.

Firstly, individual guests can simply ask to make an additional piece at your party and pay on the day.

Alternatively, if you know up front that you want a mixed piece package, just contact us prior to booking and we will create a customer order for you.

You don't even need to know exactly who will be making how many pieces straight away. We can create a minimum guest booking so that you secure the date and then will work with you to build your party the way you want.

And just a tip, it's a cheaper option than paying for extra pieces on the day.
The date/time that I want for my party is not available. What can I do?

Normally, this means that there is already the maximum number of parties booked for that date/time. However, all is not lost!

Quite often, we can juggle things around to accommodate an additional party. The best thing to do is to contact us to discuss your requirements and we will do everything that we can to assist.
I don't know the total number of guests just yet. Can I still book my party?

Absolutely! In fact, we encourage you to only book for the minimum number of guests now so that you can secure the date/time.

We will then get in touch with you approximately 2 weeks prior to the date to confirm final numbers and to discuss all of the details in the lead up to the event.
I can't have the party at my house. What other options are there?

We are always seeking additional event locations across Australia that you can consider for your Sip & Pearl Private Party. As new ones come on board, we will add them as options for each State or Region.

In the meantime though, there are plenty of other options you can consider if you are unable to hold the party at your house.

Here's some ideas that our creative customers have come up with.

Contact your favourite cafe, restaurant or hotel to see if they are ok with you having the party at their venue. This has proven very successful with guests able to enjoy some delicious food and drinks at the same time.

Another customer favourite is to hold the event as a picnic setup at a popular park or beach location.

If it's a weekend event, for example Hen's Party or Friends Weekend, then a AirBNB or a holiday resort/hotel seems to be the venue of choice.
What's On: Gold Coast
Regular price
From $55.00 AUD
Regular price
Sale price
From $55.00 AUD
Unit price
per
Regular price
From $65.00 AUD
Regular price
Sale price
From $65.00 AUD
Unit price
per
Become a Sip & Pearl Consultant
Do you absolutely thrive in social situations, enjoy helping others get creative and have a passion for Freshwater Pearl jewellery?
If so, we have multiple positions available for Sip & Pearl Consultants in most Australian states.
Predominantly weekend work.
Control your own region.
Generous % of sale commission and incentives.
Full training and ongoing support provided.
Enquire Now
What's On: Victoria
Regular price
From $55.00 AUD
Regular price
Sale price
From $55.00 AUD
Unit price
per
Regular price
From $55.00 AUD
Regular price
Sale price
From $55.00 AUD
Unit price
per
Perfect For Any Occasion
Birthdays

Baby Sprinkles

Hen's Parties

Catchup with Friends

Workshops

Team Bonding Events
Sip & Pearl with Afterpay? Simply Perfect!
Create your Sip & Pearl Party booking.
Select Afterpay as your payment method.
Pay over 4 payments, every 2 weeks.
Use the time to gather your Sip & Pearl gang.